UPDATE: 08/16/2018 9:10:55 a.m.- The Missouri Highway Patrol released the accident report regarding the five-vehicle pile up that closed lanes on Interstate 70 for hours. 
According to the report, the five vehicles included three semi-trucks, a passenger vehicle and a small UHaul box truck. The crash occurred as one of the semi-trucks driven by Justin Edwards, 37, of Imperial, Mo., was traveling westbound on I-70, near the 181 mile marker, and rear ended the passenger vehicle driven by Joan Beck, 67, of O'Fallon, Mo, pushing it into another semi driven by Wayne Winkler, 64, of Senecam, Ks. 
Edwards' truck continued and struck the UHaul box truck driven by Bradley Pingel, 48, of Lake Ozark, Mo., pushing it into another semi operated by Jesse Spurgeon, 38, of Owensville, Mo. 
Edwards sustained minor injuries as a result of the collision and was taken by ambulance to Barnes Hospital in St. Louis. Pingle reported serious injuries and was also taken Barnes Hospital for further treatment. 
MONTGOMERY COUNTY, Mo. – Both direction of Interstate 70 was closed by a crash involving several vehicles, at least one of which caught on fire Wednesday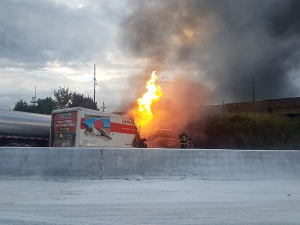 afternoon.
Troop F of the Missouri Highway Patrol posted information that it was believed that two tractor trailers and a third vehicle were involved in a crash and fire at the 181.1 mile marker, just after 5:00 p.m., Wednesday. By 6:00 p.m., fire crews had extinguished to fire but remained on scene due to a tanker spilling fuel into a ditch. MoDOT detoured traffic at New Florence and Jonesburg exits. At least two people was transported to the hospital for injuries.
At 10:30 p.m., the patrol said both lanes were still closed on the interstate.