UPDATE: (11/30/2015) 10:45 a.m.- The identity of a man who died in a Saturday morning accident on 210 Highway at Eldon road has been released.  
Media Unit Sergeant, Kari Thompson, with the KCPD issued a release indicating the accident occurred when O'Shea Williams, 23, was westbound on 210 hwy at around 8:40 a.m. Saturday, November 28, 2015. 
Williams lost control of the vehicle just east of Eldon Road after crossing a bridge that traverses a railway sub line, according to the release. The vehicle then hit a curb as it ran off the left side of the roadway, crossed the raised concrete median and struck the guardrail before it overturned and slid across the eastbound lanes of traffic. The vehicle finally came to rest on its top along the outside shoulder of eastbound 210.
During the incident, Williams was thrown from the vehicle and suffered fatal injuries. He was pronounced dead at a local hospital.
Two male passengers were also transported to local medical facilities with non-life threatening injuries. Their identities and current condition have not been released.
A fatality accident yesterday morning on Highway 210 in Clay County involved just one vehicle.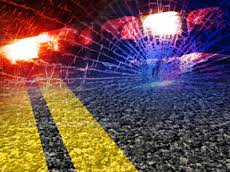 According to the Kansas City Police Department, the crash occurred just east of the Hunt Mid-West caves and Ameristar Casino on 210 Highway around 8:40 Saturday, November 28, 2015.
Incident reports identifying the victim and or the cause of the crash have not yet been released.
A KCPD supervisor stated Sunday more details may be released Monday, November 30, 2015.