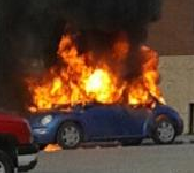 UPDATE (01/22/16) 12:20 p.m. According to the Missouri Department of Transportation the fire is out and the scene is clear. Just before noon MoDOT indicated the left shoulder was closed at the 47 mile marker. It was not clear if that delay due to a collision was related to the car fire, but traffic was slowed at that location for about a half hour.
LAFAYETTE COUNTY, Mo. – A  KMZU listener reported a car fire on I-70 a mile and a half west of the Higginsville Junction (Hwy. 13).
The report came in about 11:15 a.m. Friday, January 22, 2016. It is on the right shoulder of the westbound lanes and was fully engulfed.
Authorities have confirmed that a Higginsville Fire crews was en route at 11:24 a.m.
Traffic is getting by but slowly. If you are approaching the scene in westbound lanes be prepared to get in the left lane to give crews room to extinguish the blaze.