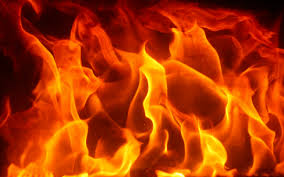 UPDATE: (06/27/16) 3:45 p.m. Cooper County Fire Protection District Chief  David Gehm has reported that the fire was extinguished at 2:30 p.m. Gehm says that over 40,000 gallons of water were used to extinguish the flames. The hay contained within the bard was a complete loss, but the structure itself was saved. Gehm told KMZU that the building appears to have been struck by lightning before they received the call at 7:30 a.m.
UPDATE: (06/27/16) 09:15 a.m. Cooper County Fire Protection District Chief David Gehm reports that crews will be on scene for some time as the hay bales are being soaked and removed so crews can get to the flames.
No one was inside the structure and so far no injuries have been reported. Chief Gehm stated that two pumpers are working on the flames while other units, including those from Pilot Grove are having to drive several miles to fill back up.
Citizens are still urged to avoid the area and give crews space to work. The fire reportedly started just before 7:30 a.m. and crews will continue to work until all hot spots have been saturated with water. Due to the high heat and humidity crew personnel are also urged to be soaked down periodically.

COOPER COUNTY, Mo. – Cooper County Fire Protection District and Pilot Grove, Mo.  fire crews are responding to a structure fire in the 14000 block of Joe Town Road, about 5 and a half miles southwest of Boonville.
It's reported to be a large barn with approximately 150 bales of hay inside. The first call went out just before 7:30 a.m. Monday, June 27, 2016.
There are two barns reportedly on the property but only one is involved at this time. It is a rural location but people should stay out of the area and be aware of fire crews heading to that scene.
Mutual aid continued to be called in just before 8 a.m.