UPDATE: (03/29/16) 6:35 a.m. Chillicothe Fire Chief Darrell Wright reports crews were called to the site just after 10:30 p.m. Monday. The fire
was contained to the semi which is considered a total loss. No injuries were reported. The cause is still unknown and the Missouri State Fire Marshall has been called in to investigate.
CHILLICOTHE, Mo – Reports of flames Monday night, March 28, 2016, at the old women's prison in Chillicothe were apparently coming from a nearby truck.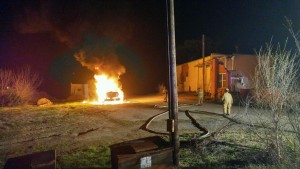 A semi truck belonging to a demolition crew caught fire at around 11 p.m. bringing emergency vehicles to the scene.  The demolition crews and equipment were at the prison to demolish the building.
The Chillicothe police department has said there were no injuries involved.  The cause of the fire is currently unknown.