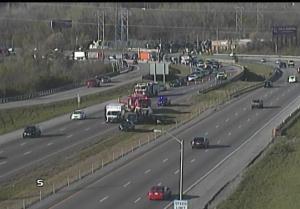 UPDATE: (04/12/16) 8:51 a.m. The wreck that had snarled traffic in the first part of the 8 o'clock hour was quickly cleared by authorities.
The two left lanes were blocked for about a half hour following a multi-vehicle wreck on northbound 435, just south of Stadium Drive.
The scene is now clear.
JACKSON COUNTY, Mo. – The Missouri Department of Transportation has reported an accident involving multiple vehicles on Northbound I-435, Tuesday, April 12, 2016.
According to the report the two left lanes are blocked and emergency crews are on scene. There are currently no reports of injuries. Traffic is backing up south of Stadium Drive and the closure is expected to last for about an hour.
The report was issued about 8:19 a.m.
Motorists should find an alternate route.