GRUNDY COUNTY, Mo.– Three local residents were transported to the hospital following a two-vehicle crash earlier this morning in Grundy County. The accident occurred at 7:42 a.m. on Route Z, approximately 3 miles north of US 65, just southeast of Trenton.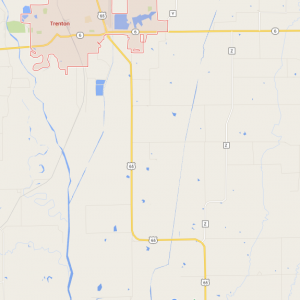 Joseph Pithan, 44, of Chula was driving a 2014 Ford Explorer, facing northbound in a farm entrance, and attempted to make a u-turn. Pithan travelled into the northbound lane and Patricia Whitaker, 58, of Trenton struck the driver's side of Pithan's Explorer, which came to rest in the northbound lane. Whitaker's 2014 Chrystler travelled off the west side of the roadway into a ditch.
Pithan, Whitaker and  Amy Currie, 34, of Trenton, an occupant in Whitaker's vehicle, were taken to Wright Memorial Hospital by EMS for treatment. Pithan and Whitaker suffered moderate injuries while Currie's injuries were minor.
Story initially reported by Mike Stone after being alerted by a KMZU listener.
UPDATE: (07/18/16) 11:30 a.m. The barricades obstructing traffic from Highway 65 onto Z blacktop in Grundy County have been removed and traffic is allowed through. However, crews are still on scene about two miles north of that location. Drivers should still use caution on Z between Highways 65 and 6.
Still no word on what injuries may have been sustained by those involved in the wreck.
KMZU News will continue to monitor the situation.
UPDATE: (07/18/16) 10:00 a.m. – The Missouri state Highway Patrol confirmed that crews are still on scene of the accident approximately 2 miles north of Highway 65 on Route Z blacktop in Grundy Co.
Traffic is still being hampered at that location and motorists should stay off Z for the time being and reroute around it on 65.
Route Z is used and as a connector between Highway 6 and 65.
KMZU News will let you know when the scene is clear.
GRUNDY COUNTY, Mo. – A KMZU listener reported a motor vehicle accident on Route Z blacktop in Grundy County just after 9 a.m. Monday, July 18, 2016.
It reportedly occurred approximately 2 miles north of Highway 65 and 4 miles south of Highway 6.
Traffic is backed up about a quarter mile both north and south of the scene. Motorists are urged to avoid the area.
The Missouri State Highway Patrol has confirmed the accident but at this time does not have a time line on how long it will take to clear the roadway.
Again, motorists in Grundy County should avoid Z blacktop between Highway 65 and Highway 6.
KMZU will bring you more details as they become available and when the scene is clear.