SEDALIA, MO  Valentine's Day is about celebrating the one you love. Gifts are bought and purchases are made, but here's a unique way to spend Valentine's weekend that caught my eye.
Red Hues on The Avenues-Chocolate Crawl is a great way to spend the afternoon with your loved one, walking in and out of shops trying different types of chocolates.  Michelle Swords of Sword's Family Pharmacy said there are 18 different shops participating.
There will be a special drawing for those wearing Kansas City Chief Red, so this appears to be one more day that you could get out and celebrate the K.C. Chiefs championship.
The Chocolate Crawl is put on by the Promotions Committee of Sedalia Downtown Development, Inc. The weather forecast Saturday is suppose to be nice. Swords said chocolate diehards will attend either way.
The Red Hues on The Avenues-Chocolate Crawl is this Saturday, February 15, from 10 a.m. to 2 p.m.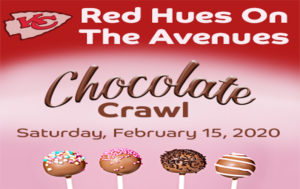 Complete interview: