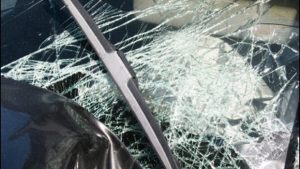 UPDATE:  11 p.m. – The crash reportedly injured an Independence man. 
According to a Highway Patrol crash report, crews responded to a single motorcycle wreck during which the driver, James L. Benson, 45, was ejected.  He was taken to Centerpoint Hospital with moderate injuries. 
According to a crash report, the bike struck a dog in the roadway.  
NAPOLEON, Mo – According to preliminary reports a motor vehicle accident occurred on 24 Highway west of Route D at Napoleon in the 7 p.m. hour Sunday.
Respondents say both lanes were shut down, and emergency medical services were on scene. The crash may involve motorcycles and a passenger vehicle.
Look for updates.