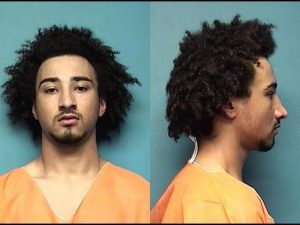 INDEPENDENCE, Mo.- An Independence man has been formally charged in Jackson County Circuit Court after a fatal shooting at an Independence convenience store on Saturday, June 23.
According to a release from the Jackson County Prosecuting Attorney's Office, Marc A. Barron, 19, has been charged with murder in the second degree and armed criminal action.
On Saturday, at around 2:00 p.m. officers responded to a parking lot on E. 23rd Street where the victim, Cahoone Littlejohn, was found with several gunshot wounds. Investigators concluded that the Barron and the Littlejohn had been in a confrontation, possibly over a near vehicle collision in the parking lot.
After punches were thrown, the defendant allegedly pulled out a handgun, causing the Littlejohn to step backwards and trip before shots were fired. The shooting was captured on video, and more than a dozen shots were fired. Littlejohn was ultimately pronounced dead at the scene.
Prosecutors requested a bond of $500,000 for Barron pending future court dates.