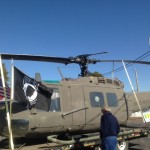 The Kansas City Vietnam Veteran's Association brought a Huey Helicopter to Buckner this weekend. The piece of machinery was shot down four times during the Vietnam War.
It was put on display at the Buckner VFW over the weekend. Click to hear KMZU's Sarah Scott speak with Post Commander Chester Denton:
Chester Denton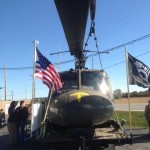 "Got a lot of interest from the community on the Vietnam vet's helicopter. It turns out that there's a lot more involvement than I thought there would be, initially. We had some good coverage there, a lot of history. A lot of history. I learned a lot of stuff just talking to some of these guys and listening to some of the stories."
The attraction drew between 200 and 300 visitors. "The kids have a great time," said Denton, "I've never seen anything like these kids getting on that helicopter. They're really enamored by it. So they got to see and talk with some of the Vietnam veterans. And they're just a great group. They gave us the idea. They said that if we could get this down here, it would probably help."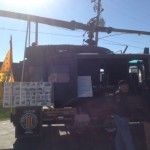 The open house let the Post show off the recent renovations, which were funded by a grant from the Home Depot. It also served as a recruitment tool. Six new members joined VFW Post 8101 on Saturday.