Virginia Knipmeyer, 89, of rural Corder, MO, passed away on August 23, 2021.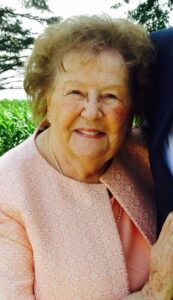 Funeral services will be held at 11:00 a.m. Friday, August 27, 2021, at Waverly Baptist Church with Pastor Zach Haffecke officiating. Burial will follow at Missouri State Veterans Cemetery in Higginsville. Visitation will be from 9:00 a.m. to 11:00 a.m. Friday at the church. Memorials are suggested to Waverly Baptist Church in care of Campbell-Lewis Funeral Home. An online guestbook is available at www.campbelllewis.com She was born November 2, 1931, in rural Saline County, MO. She was the daughter of Charles and Clara (Garrison) Guthrie. Virginia was a graduate of Glasgow High School, class of 1949. After high school, she worked at the hospital in Marshall, where she later met her husband. On June 12, 1955, she married David Knipmeyer, who survives of the home.
Virginia was an active member of Waverly Baptist Church in Waverly, MO, where she was involved in many church activities. Over the years, she was a Sunday School teacher, a youth group leader, and worked in the church nursery. Virginia had a special love for all children. She founded and operated a state licensed daycare, Nanny's Daycare, in Alma, MO, from 1986 to 1994. She touched the lives of many parents and children during her years at the daycare. She later stayed home to watch her grandchildren until they began school. She enjoyed shopping and was a sports enthusiast. She loved
watching local sporting events and cheering on the Mizzou Tigers. However, spending time with loved ones was what she enjoyed the most.
Virginia will be remembered as a loving wife, a beloved sister, a devoted mother and grandmother, and a friend to all. Virginia is survived by her husband, David; two children Michael (Kathy) Knipmeyer of Alma, MO, Susan (Scott) Jensen of Higginsville, MO; two sisters Betty (Ray) Arth of Marshall, MO, Peggy Buchholz of Hortense, GA; five grandchildren Jennifer (Zach) Wiemer, Jeff (Lauren) Knipmeyer, Nick (Breann) Jensen, Marc (Wendy) Jensen, Emily (Brent) Kusgen; eight great-grandchildren June & Sylvie Wiemer, Kendall & Mason Knipmeyer, Haiden Jensen, Brooke & Tim Jensen, and Will Kusgen; along with several nieces and nephews.
In addition to her parents, she was preceded in death by one sister, Helen (Guthrie)
True.