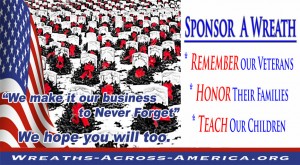 MISSOURI – On Saturday, December 12, 2015, Citizens for Veterans, partnered with Wreaths Across America, will be placing wreaths on veteran grave sites in our local area. Kit Smith, the organizer of Citizens for Veterans in Clay and Ray counties, based out of Excelsior Springs, tells KMZU's Andy Campbell details about placing the wreaths at the grave sites and how you can get involved.
Smith says he believes this is an important act for our local area in particular because the cemeteries turn brown in the winter and the live wreaths provide some holiday cheer and a serve as another way to remember our veterans.
Smith says volunteers are still needed to transport the wreaths to the cemeteries, place the wreaths, and clean up the wreaths is February. If you would like to participate, call (816) 898-9103 or email citizens4vet@gmail.com.
If you would like to fund a wreath, or request a placement at a particular grave site, follow the links below. The deadline for donations this year is Monday, November 30, 2015.
Wreaths will be laid December 12, 2015.
Click here to sponsor a wreath in the Excelsior Springs area.