A Higginsville resident, 92-year-old Waneta Franklin (Griffel) died Monday, Jan. 20.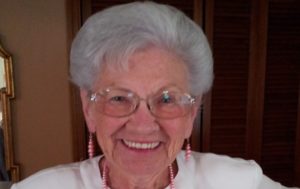 A funeral service will be held at 10 a.m. on Thursday, Jan. 23 at Central Christian Church in Higginsville. Interment will follow in the Missouri Veterans Cemetery. Arrangements have been entrusted to Hoefer Funeral Home.
The family will receive friends from 6:30 PM to 8:00 PM on Wednesday, January 22, 2020, at Hoefer Funeral Home. In lieu of flowers, memorials may be sent to Preferred Hospice of MO or Central Christian Church – Window Fund.
Born Friday, November 4, 1927 in Thompson, Missouri, she was the daughter of the late Alfred Griffel and the late Leona Griffel (Moore).
Waneta married James M. Franklin Jr. on January 4, 1944. James preceded her in death on June 20, 2002. They were married 58 years.
Waneta worked at the Vollenweider Apple Orchard in Lexington, MO for fifteen years as well as working for the Higginsville Advance until she was 87 years old. Waneta was an avid quilter, she was well-known for her denim quilts. She enjoyed traveling and collecting sea shells on the beach. Waneta loved spending time with her family, they were the most important thing in her life.
Surviving are two sons, Terry "Logger" (Cheryl) Franklin of Hollister, MO, Steve "Shark" (Tina) Franklin of Lee's Summit, MO; one step-son, Gary Franklin of Huntsville, MO; two daughters, Diana (Larry) Duvall of Blue Springs, MO, Kathy (Jim) Tracy of Higginsville; two brothers, Eugene (Marci) Griffel of Braymer, MO, Harold (Ruth) Griffel of Higginsville; two sisters, Marie Gassen of Higginsville, Beverly (Bill) Mackie of Higginsville; ten grandchildren; twenty-three great-grandchildren, two great-great-grandchildren.
She was preceded in death by her parents; her husband, James; one sister, Alice Miller; and one grandchild, Roger "Gator" Tracy.