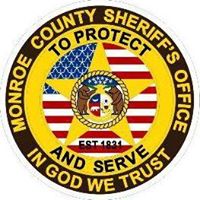 MONROE COUNTY, Mo.- The Monroe County Sheriff's Office assisted US Marshals, the Missouri State Highway Patrol, and the Lincoln County Sheriff's in serving two arrest warrants on a suspect who was reportedly residing in rural Monroe County.
According to a release, in the early morning hours today, David L. Daniels, 44, of Troy, Mo., was arrested on Monroe County Road 460 just outside of Stoutsville, Mo. Daniels was apprehended on two Lincoln County warrants with charges of second degree burglary, stealing and five counts of failure to register as a sex offender.
Daniels was transported back to Lincoln County where he remains in custody. Bond on the warrants were each set at $25,000 cash only.