PLATTE COUNTY, Mo. – A Kansas woman, arrested for a misdemeanor Kansas City Missouri warrant, is being held in Platte County without bond.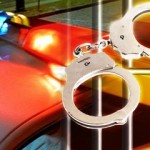 According to the Missouri State Highway Patrol, Rebecca S. Reynolds, 42, of Easton, Ks. was taken into custody on the warrant around 8:00 p.m. Thursday night. During her arrest, Reynolds was alleged to have been in felony possession of methamphetamine, morphine and xanax. They also say she was in possession of a misdemeanor amount of marijuana.
Formal charges are expected to be filed later today.