Click play below to listen to KMZU's Mike Stone visit with Warrensburg Police Corporal, Tom Carey: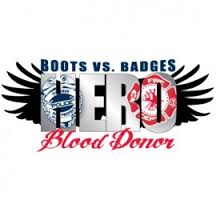 The Warrensburg Police and Fire Department are hosting their annual blood drive this Friday, June 26th.
The two groups of civil servants have worked hand-in-hand many times in the past and will continue to work together to ensure the safety and wellbeing of their citizens. But this blood drive is about something more; both the F.D. and P.D. will be honoring the memory of a fallen Missouri State Highway Patrol Trooper. Warrensburg Police
Corporal, Tom Carey, said Cpl. Michael Webster was "killed in the line of duty in 1993. We're honoring him; his Birthday is in June so we're having a little cake in honor of Michael Webster." They will also be serving Papa Murphy's pizza.
While the blood drive is for a great cause, those involved have made a friendly competition of it over the past few years. "It's a competition between the Police and Fire Departments, to see which group can bring in the most donors. Blood supply is always low in the summer time so we need to get lots of donors in. The Police department has won up until last year. We've done this for 9 years; the fire department won last year and so the Police Department is looking to get our travelling trophy back."
You can find the boys in blue as well as their red rivals at the Warrensburg Community Center from 10 a.m. to 6 p.m.