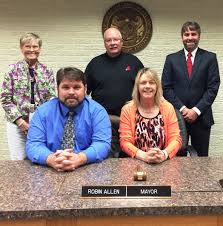 WARRENSBURG, Mo.- Warrensburg City Council gathered for their last meeting this month on Monday, September 28, 2015. A closed meeting began at 5:45 p.m. followed by a study session at 6:00 p.m. for a discussion on the National Incident Management System.
After roll call was taken the Director of Finance in his report spoke on online sewer billing options and the successful amount of residents that have signed up, also touched on the scheduled preliminary audit.
A public hearing was held on an ordinance establishing an R1: Single Family Residence District for property recently annexed into the City of Warrensburg, located on the north side of the Essex Drive cul-de-sac. Nobody sign up to spoke so hearing was closed.
Two presentations were listed next on the agenda and they included a recognition of storm shelters in Warrensburg and a Fire Prevention Week proclamation. Four churches were recognized for their storm shelter services, Community Church of Christ, United Methodist Church, Grover Park Baptist Church, and Sacred Heart Catholic Church.
The mayor then read a proclamation for Fire Prevention Week with the Fire Department present that begins on October 4, 2015, and will run till October 10, 2015
Five ordinances were listed under the second reading stage Monday night. The ordinance held under the public hearing was read again and adopted. The lone rejected ordinance was to enlarge an R3: Low-Density Multi-Family Residence District by rezoning land located on South Mitchell Street from R2 to R3. The planning and zoning commission requested it be denied and the council rejected the ordinance.
The adoption of the annual operating budget for the fiscal year beginning October 1, 2015, took place as well and the ordinance was adopted.
The council has been discussing an ordinance amending a chapter in the Code of Ordinances regarding pet daycare centers. The amendment included one pet per 75 square feet and parking requirements. The ordinance was adopted.
Following other business appearances and miscellaneous matters from City employees the meeting was adjourned. Warrensburg City Council will meet again October 12, 2015, at their usual time of 7:00 p.m.