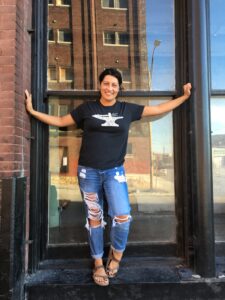 CARROLLTON (KMZU) — As soon as Michelle Villalobos stepped into a shop on her first day of welding school over 20 years ago, she knew she had a passion for the line of work – even if she wasn't the best welder around.
Now, Villalobos uses her talents not only to work on projects, but to educate and help others. In 2014, she started her own company based in Kansas City, a welding and fabrication shop named The Industrious Co. She describes the road toward getting the business she's always dreamed of off the ground.
Villalobos explains the next direction in which she would like to take her business.
As a woman in a male-dominated industry, Villalobos admits her trajectory hasn't always been the easiest, however she makes it clear that it didn't discourage her from leaving a job she loves, and wants to inspire other girls to do the same.
Inspired by a television ad that was also circulating around social media, Villalobos started to craft an image around the idea of doing something "like a girl" from her own experiences as a woman in field that is mostly male. Thus, "Weld Like a Girl" soon became her brand. Villalobos explains what the phrase means to her.
On Friday, Villalobos will be judging a welding competition for high school students hosted by the Grand River Welding Institute in Brookfield. The founder of the school, Eric Adams, is a longtime friend of hers from welding school.
Villalobos is looking forward to getting to interact with the students.