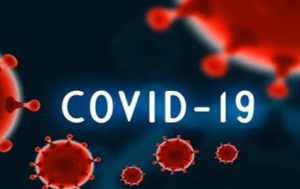 CARROLLTON — Carroll County elected and health officials are sounding the alarm for residents to take the threat of the coronavirus seriously as active cases jumped by 32 since July 2.
Fourth of July parties and events throughout Carroll County where Covid-positive people attended are the main culprit, according to Roberta Hartwig, county health department administrator. More confirmed cases are expected, she says.
"We want people to understand it's everywhere," Hartwig says. "There could somebody by you (who's positive) at any time. Some people are positive and are not aware of it."
So far, around 300 have been notified to quarantine for 14 days, officials says. But there's likely more people who are impacted by COVID-19.
"The thing that  concerns us the most is, we believe there's an average 10-plus people for every case," presiding commissioner Stan Falke told KMZU.
What is also worrisome to him and others, is that some people are not taking heed to self-quarantine.
"We're not sure that we are getting 100% compliance in quarantine request. Anyone that has been exposed who doesn't quarantine and then comes back positive creates a whole another circle of people," he says.
Jeff Tindle, Carroll County Memorial Hospital CEO, says the hospital is seeing a spike in confirmed positive cases,  as well as people becoming sicker from COVID-19. He says the only way to slow the outbreak is "to stop it soon, because right now, we're on the edge of a surge."
"Clearly, we are seeing a dramatic increase in the number of tests we are running and the percentage of positives coming back are considerably higher," Tindle says. "We're starting to see people that are getting sicker. I know that there are people who are positive for Covid and don't show a lot of outward signs, but we've got some patients right now that'll likely be hospitalized," he says.
Starting Monday, Sheriff Jewel McCoy will dispatch a deputy as a full-time contact tracer for the health department. The county and health officials will conduct an emergency meeting on how to contain the outbreak on Tuesday.
This weekend, Carroll County Cattlemen's Association is hosting the Pork Palace and beer garden at the county fairgrounds. Right now, officials are reluctant to cease public gatherings, but are pleading with attendees to practice social distancing and hand sanitization.
"Any social gathering at this point would bring along risks," Falke says. "We highly encourage, if you do go, please follow proper guidelines, social distancing, hand sanitizing. Please do the best you can to keep this pandemic from really getting a lot worse than it is."
So far, the Burger Bar, Ol' Boys BBQ, the YMCA and the newly-opened aquatic center are temporarily closed due the exposure of COVID-19.
McCoy says if the county stays the course its on, restrictions would likely occur.
"We don't want to go backwards to Phase 1, to where we have to enforce businesses to shut down and everything. If people just cooperate in this manner, it would make it a whole lot easier," he told KMZU.
. . .
Anyone who's been at a family or public gathering is asked to self-monitor for symptoms. If you were named as a close contact to an individual who's tested positive for COVID-19, you are asked to self-quarantine for 14 days from the date of exposure. Those with questions on testing, should call 877-435-8411, according to Hartwig.