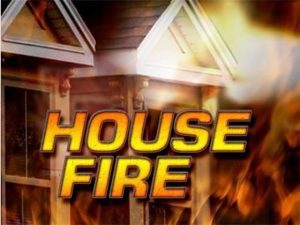 UPDATE 1 p.m. Jan. 18, 2021:
WESTON — Anthony Fleming, 24, of Weston has been charged with first-degree arson and second-degree murder resulting in the death of a Weston man in hospice care by Platte County Prosecutor Eric Zahnd. Charges were filed early Monday following an investigation led by the Platte County Sheriff's Office.
According to the probable cause statement, Fleming allegedly set fire to the Weston home around 1-2 a.m. Sunday where he, his child's mother, Kassandra Darby, and  her father, Timothy Darby, 60, lived. The fire resulted in the death of Timothy Darby.
In an interview with authorities, Fleming allegedly admitted to setting fire to the 621 Prospect St. home by lighting clothes in his bedroom to make it look like he died. He allegedly accused Kassandra Darby and another individual of making the home into a "meth house" and "condemned the house himself and saved my best friend."
"Anthony Fleming showed remorse for his dog who was killed in the fire and did not ask if T. (Timothy) Darby was alive," Platte County Sheriff's deputy Nancy Penrod writes in her statement. When speaking about the elder Darby with Penrod, Fleming allegedly said, "I really hope he is alive, but if he's not, then he must have run back into the house and that's his fault."
Kassandra Darby allegedly admitted to investigators she and Fleming were using methamphetamine since Jan. 15, according to court documents. Fleming allegedly told her that her father, who was in hospice and in the final stages of his disease, was ready to die.
Fleming was found barricaded in sticks and trees limbs in a wooded area a mile away from the home. He was only wearing socks and had numerous injuries on his hands and body, the statement says.
Firefighters discovered Darby dead in the kitchen of the home.
WESTON, Mo. (AP) — Officials in northwestern Missouri are investigating a deadly house fire that investigators have deemed suspicious. The Kansas City Star reports that fire crews were called to the blaze in Weston around 2 a.m. Sunday. The Platte County Sheriff's Office says the body of 60-year-old Timothy Darby was found inside the burning house. Investigators have not said how the fire started, but say the cause is suspicious. Officials said detectives were questioning a person of interest in the deadly fire.