JEFFERSON CITY, Mo. – A Wheatland man and his son have been charged with possession of illegal firearms.
According to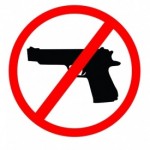 Tammy Dickinson, U.S. Attorney for the Western District of Missouri, William "Bill" Harlan Parker, 40, and his son, Devlin Quanah Parker, 20, both of Wheatland, were charged in separate complaints filed in the Federal District Court of Jefferson City on Wednesday, October 28, 2015. Both men remain in federal custody pending a detention hearing on Monday.
Bill Parker was charged with possessing firearms after being convicted of domestic violence and with possessing unregistered firearms. Devlin Parker is charged with possessing unregistered firearms.