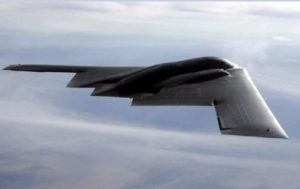 KNOB NOSTER, MO – Whiteman Air force base will make an appearance at the AFC championship game in Arrowhead Stadium, Sunday.
The show of force, in the form of a flyover by a B-2 stealth bomber, is scheduled to be simultaneous with kickoff, around 2 p.m. The flyover will also be supported by a ground team of airmen and pilots.
The Air Force Base out of Knob Noster is home to the 509th and 131st bomber wings.