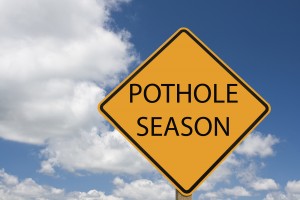 JEFFERSON CITY —  It was minus 13 last Tuesday. Today, an expected high of 63 degrees. These wild temperature swings — along with ice — are wreaking havoc on Missouri's roadways. That's why Missouri Department of Transportation announced on Monday it will begin its pothole patrol earlier than usual this year. Around 300 MoDOT crews will be out in force now until April to fix those problems, according to a MoDOT release.
Motorists can alert MoDOT of pothole problems on state lettered routes and highways by calling 1-888-ASK-MODOT or by going online and filing out a form at modot.org/road concern. Short-term repairs will be made using a cold asphalt mix, filling deepest potholes first.  Hot asphalt mix, the longterm fix, isn't effective until temperatures stay warm for a prolonged time.
"February has led to a high number of potholes blossoming on Missouri highways already. We ask motorists to please be patient with us as the repairs are being done," said Natalie Roark, MoDOT state maintenance director.
If you can't avoid a pothole, MoDOT provides these safety tips:
Don't brake directly over a pothole as this can cause more damage.
When driving over the pothole, hold the steering wheel firmly to avoid losing control.
Use caution when driving over a puddle of water because it might be a pothole in hiding.
Make sure your tires are properly inflated. Properly inflated ties hold up better against potholes than tires that have too much or too little air.
Last year, the agency says it patched around 750,000 potholes at a cost of $18 million.