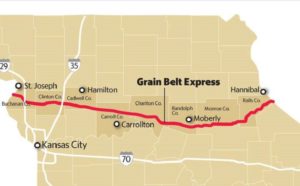 A controversial wind energy project has advanced after an appeals court decision Tuesday.
The Grain Belt Express, which would traverse the northern part of the state, had been opposed by Missouri landowners, and the state Farm Bureau. They argued the transmission line would take land away from owners without providing any substantial benefits. The line would be built through Caldwell, Carroll, Chariton, Clinton, Monroe, and Randolph counties. The line will deliver power to grids in eastern states.
The Missouri Public Service Commission approved the project in March, 2019 after previously rejecting it twice. The commission argued, "There can be no debate, [the future of energy] will require more diversity…"  The commission also found the multi-state project would cost significantly less than a project exclusively in Missouri that would conform to voter mandated, renewable energy targets in the state.
The appeals court decision found arguments opposed to the project either incorrect, or irrelevant, and deferred to the PSC decision to award the certificate of convenience and necessity to the project.
Farm Bureau President, Blake Hurst, is on record opposing the project. He says, "Investors who want to negotiate rates privately and enter into contracts to sell electricity to the highest bidders should not be able to condemn land in order to build their dream project," Hurst claims Clean Line, which was sold to Invenergy, essentially bought eminent domain from a regulatory body so they would no longer have to negotiate with landowners.
The transmission line would cross the property of approximately 570 Missouri landowners. Missouri Landowner Alliance used studies provided by Grain Belt, in attempting to show that Missouri's current electric reserves are more than adequate. They also argued that voter mandated renewable energy requirements in the state may not be met, since the line in most cases, amounts to imported energy from, and exported energy to other states. The group said GBE has no private commercial interests, and the project would not be economically sustainable. The MLA tried to link state law with legal precedent to determine that the PSC had no authority to issue a transmission permit to an entity that is not a public utility and won't fully submit to PSC jurisdiction.
Other opponents warned of possible issues with federal rate authority ahead of the project's purchase by wind energy giant Invenergy, which owns substantial generation assets that could benefit from a private electric highway across Midwestern states.