UPDATE (06/09/15; 9:30 p.m.): A hearing has been scheduled for Lewis at 10:00 a.m. on June 22, 2016, in Lafayette County.
Johnson's bond has been set at $50,000, cash or surety.
UPDATE: 3:20 p.m. (03/22/16)- Following the review of two probable cause statements, evidence suggests Lewis has been charged in two separate counties regarding the incident detailed below.
According to the P.C. statements, a witness reported being present while Lewis was smoking methamphetamine while her infant child lies next to her on a coach at Lewis' residence in Lexington, Missouri. After city officers attempted to search multiple locations, including Lewis' apartment, to no avail, they were notified by Richmond police that Lewis along with two other individuals, had been located at a motel.
While searching the dwelling, officers reported locating eight glass pipes, five cut straws, one digital scale, a lighter, and a hand-held propane torch. The pipes and straw collected all contained a white powdered substance known to officers as methamphetamine and a field test of the substance came back positive for methamphetamine. 
As a result, Lewis has been charged in Ray and Lafayette County.
As stated below, Lewis faces a single charge in Lafayette of first degree endangering the welfare of a child involving drugs with a bond set at $50,000. In Ray County, Lewis faces additional charges of first degree endangering the welfare of a child, possession of a controlled substance, and unlawful use of drug paraphernalia. Bond there has been set at $15,000, cash-only.
LEXINGTON, Mo— Following a picture being posted to Facebook messenger this past Saturday, March 19, 2016, of a woman allegedly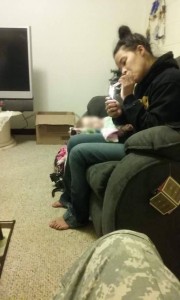 smoking meth with a baby lying next to her, KMZU forwarded the photo onto authorities in Lexington, and an arrest was made.
According to court records, Ashley A. Lewis, 28, has been charged with a class C felony of first degree endangering the welfare of a child involving drugs.
Pictured, you can see Lewis holding a glass pipe with a lighter under the end of the smoking device. Next to Lewis, on the couch, is a small infant.
The woman is now held on a $50,000 bond at the Lafayette County jail. Special conditions of her bond include no contact with anyone under the age of 18 years.
Court proceedings have not yet been scheduled.