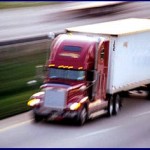 UPDATE: (07/29/15) 3:00 p.m. Traffic is finally back to normal after crews with MoDOT cleared the left lane and median of debris. At times Wednesday, traffic was backed up for nearly 5 miles.
First responders are on scene of a motor vehicle accident at the Odessa exit of eastbound I-70. The wreck was first reported at 7:16 a.m. Wednesday, July 29, 2015. Reports indicate it is just east of the on ramp.
A tractor trailer reportedly overturned in the median. It's unknown if another vehicle was involved.
MoDOT cameras indicate traffic is merging into the right lane, which has traffic backed up about a mile. The wreck is expected to hamper traffic untill the early afternoon at least.
There are no initial reports of injuries at this time.